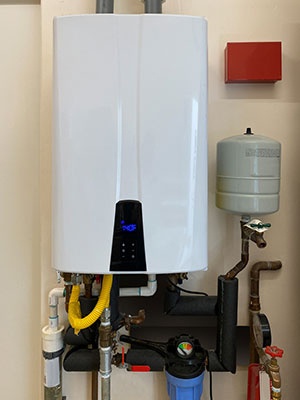 Tankless water heaters are an energy-efficient way to heat the water in your home, saving water and money simultaneously. They are also very reliable units compared to their tank counterparts. But even the most reliable appliances can malfunction from time to time. There are a handful of reasons why you may need tankless water heater repair from a professional plumber.
Overloaded system. Supply and demand are everything when it comes to a properly functioning tankless water heater. If your household uses more hot water than the water heater can produce, it will either run out or overload and shut down. If this problem happens often, it may be time to upgrade your home's system.
Flame failure. If your water heater's display is flashing a "flame failure" message, the flame in the water heater is not staying lit, so your water isn't being heated. This problem may be caused by something as simple as a valve being closed, or there could be a blockage in a vent.
Blocked exhaust or air vent. A common tankless water heater repair is fixing a blocked vent or exhaust. To work properly, your water heater needs fresh air. Unfortunately, the outside air vents can be blocked by wasp nests, bird nests, or even rodents. The pipes can also get puncture holes or become loose, needing repair or adjustment.
Ignition failure. The ignition failure error code usually has more to do with your gas supply than the actual heating unit. Your propane tank may be low, or the valves may not be open, causing an ignition failure. If neither of those is the issue, then it may be a failure in your ignition pack or a symptom of a larger issue.
If you have a tankless water heater that needs repair, give us a call at Monster Plumbing. We will be happy to lend our expertise and find a solution for you.